This Week in Podcasts is a weekly roundup of the goings-on in podcasting, from highlights to pitfalls to updates and more. Have updates or crowdfunding campaigns you want listed? Check here for directions on how to get in touch.
---
Highlights
This week, this is my highlight:
During the remained of October, I will have limited availability, and my updated may be sporadic while preparing for this change. I thank you for your patience in advance.
---
Updates
VALENCE adds voice actor Jordan Cobb to its primary cast
Jordan Cobb (Janus Descending, Here Be Dragons, Marsfall, and more) will be joining the cast of Hug House Productions's VALENCE in the role of Sarah Harris, one of the upcoming fiction podcast's main characters.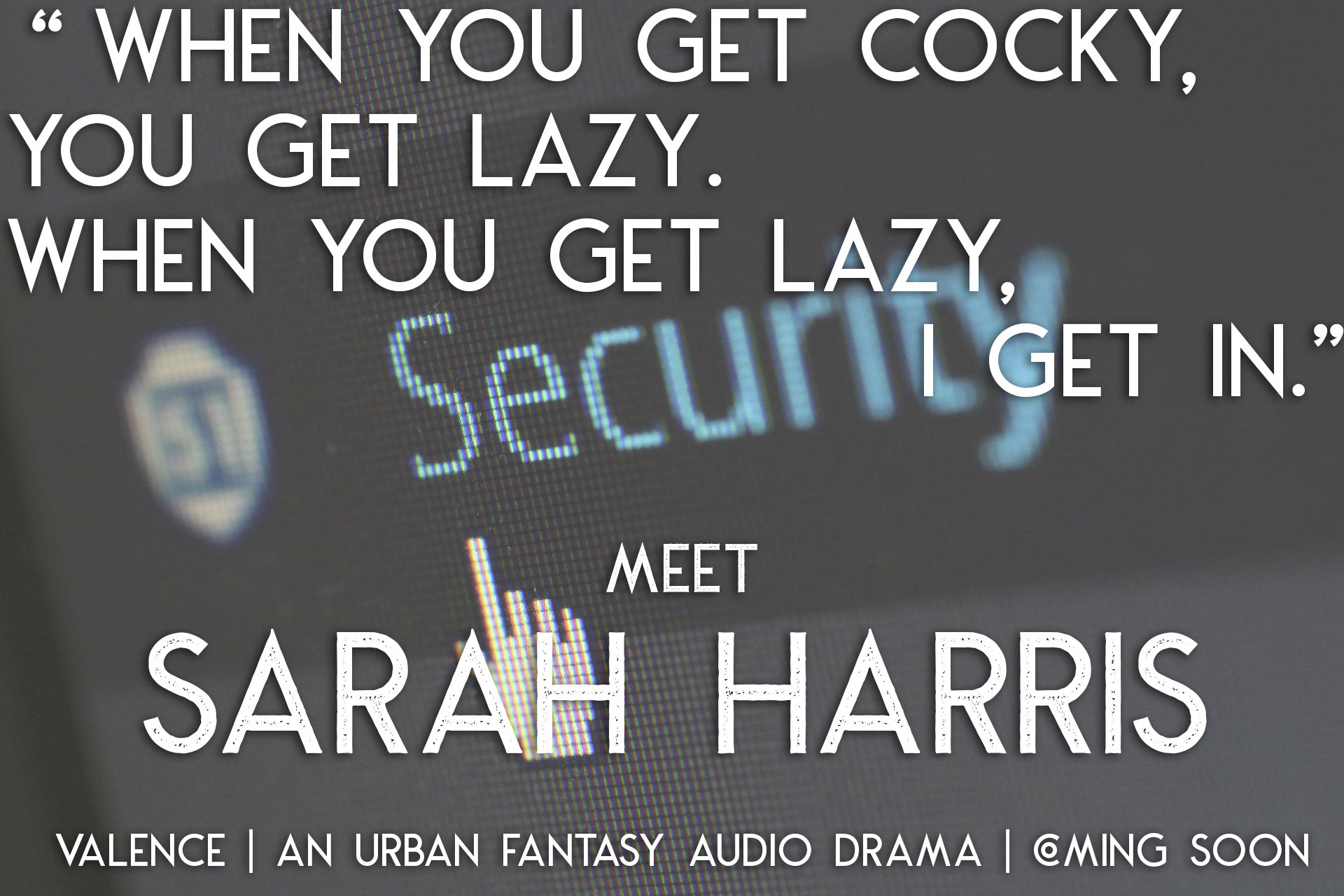 Spotify adds podcast playlist capability
As reported by Good Morning America, part of Spotify's increasing push to promote podcasts includes the ability to add podcasts to playlists. Because Spotify's recommendation algorithm is, to my knowledge, at least in part based on users' playlists, this means discoverability for podcasts could increase.
Passer Vulpes announces launch date and premier party for new fiction podcast
Australian fiction podcast studio Passer Vulpes Productions (Love & Luck, Nym's Nebulous Notions) have announced a premier party for their upcoming fiction podcast, Supernatural Sexuality with Dr. Seabrooke:
Supernatural Sexuality with Dr Seabrooke is a fictional sex and romance advice radio show set in a world where monsters are real. Monsters and humans alike call in to noted folklorist, sexologist and relationship therapist Dr Olivia Seabrooke (played by seasoned performer Mama Boho) for help in finding ways forward on the issues that spring up in relationships where people's needs, cultures and bodies are radically different.
The party will be held in Melbourne, Australia, on October 13th, 2019. The podcast will launch four days later, on October 17th.
Independent fiction podcast MOONFACE released in full this Wednesday, October 9th
James Kim and Joel Kim Booster's new fiction podcast, MOONFACE, will release its entire six-episode mini-series this Wednesday, October 9th, 2019:
MOONFACE enthralls you into the life of Paul (Joel Kim Booster)– a late 20-something millennial who lives at home with his mother (Esther Moon Wu) in the quiet suburb of Downey, California. He wants to finally open up to her by coming out, except they can't speak the same language. Paul is a second generation Korean American who only speaks English. His mother, Gina Mi-sook Kim, only speaks Korean.

The series was inspired by James' personal experience of grappling with his Korean-American identity, questioning if his lack of Korean language makes him less Korean, and how challenging it is to come out to someone when you literally don't have the words for it.

MOONFACE is voiced by Joel Kim Booster, Esther Moon Wu (Transparent), Mildred Marie Langford (Masters of Sex), Remy Ortiz (The Affair), Noami Ko (Dear White People), and Todd Masterson (Where the Bears Are). The show's world is built through an original score by Andrew Eapen and a cinematic sound design by Artin Aroutounians. It also features music by Clairo, Peggy Gou, Big Thief, park hye jin, Kim Jung Mi, The Pains Of Being Pure At Heart, Oyster Kids, and Joyce Kwon.
I have listened to press copies of the first two episodes. They are painfully beautiful. Don't miss this release.
New nonfiction podcast Brain on Nature connects nature to neurology
Brain on Nature is a new documentary podcast "that explores the relationship between the natural world and the human brain":
The podcast follows host, Sarah Allely, as she tries to find out why the natural environment helped her recover from a mild traumatic brain injury. This six-part series tells the story of the bicycle accident that left Sarah unable to read, write, watch TV or listen to podcasts. She was crippled by incessant headaches, unable to work, care for her young kids, and function in her former life.  She discovered her path to recovery was through nature. She was forced to slow down and change her lifestyle, replacing screen time and constant multitasking with solo bush walks and mindful gardening. What's the science behind her experience? Brain on Nature includes the voices of scientists and doctors who acknowledge nature's health benefits, but are yet to pinpoint exactly what it is that heals. With rich, textured sound design, using field recordings from Australia and New Zealand, this podcast recreates the intensities of her experience and plunges listeners into the chaos that descended on Sarah's life. 
PodTales announces mini grant program
Upcoming audio fiction event PodTales has begun to offer mini grants for new fiction podcasters in need of funding for an upcoming project. Contributed to by Dashlane, PodFest Expo, Hindenburg System, and PRX, "[grant] packages will include an assortment of the following: 1-year Hindenburg Journalist software license, Blue Yeti microphone, audio editing workshop for Hindenburg Journalist at the PRX Podcast Garage, as well as the Dashlane Cash Mini Grant for Fiction Podcasters." The application for the mini grants can be found here.
WGBH launches tween-focused horror anthology podcast, The Creeping Hour
Just in time for Halloween, the five-episode series combines engaging stories, imaginative sound design, a diverse cast of creepy characters and promises to delight lovers of classic young-adult horror series such as Goosebumps, Scary Stories to Tell in the Dark and Are You Afraid of the Dark? The podcast is for kids ages 8 – 12 but parents shouldn't be afraid to listen along as well.
The Creeping Hour is hosted by "the Creeps," three teenage friends who became monsters after hearing too many scary stories.  Axe (Kizzmett Pringle), Toro (Matthew Gumley) and Weta (Alexis Collins) set the stage for each episode, which features a single story with a unique cast of characters.  Each independent episode runs 15 to 25 minutes, timed for an average commute to or from school.
New birding podcast Songbirding launching October 14th, 2019
A new limited series birding podcast featuring in-the-field birdsong recordings is launching this October. "Songbirding" (https://songbirding.com/) has host and birding guide Rob Porter take listeners into the field to experience "birding by ear" in a relaxed-pace acoustic exploration of natural spaces in the Great Lakes region of North America. The inaugural season takes place in the midst of bird breeding season on the Bruce Peninsula, about 250km northwest of Toronto, Ontario. "Songbirding" is the first podcast series to focus entirely on immersive in-the-field birding. It is aimed at an audience of birders and general nature enthusiasts alike. Each episode averages just over 20 minutes of field recordings, plus segments that focus on teaching a specific birdsong.
Fiction podcast Death by Dying announces its off-season mini-series, Tales from Crestfall
"After its shocking Season 1 finale, Death by Dying proudly presents Tales from Crestfall, a three-part bonus miniseries during its off-season to be released this October. Each episode will be a standalone story expanding the world of Crestfall, Idaho, before the arrival of Season 2 in 2020." You can read my full review of Death by Dying's first season here.
Stormfire Productions announces upcoming fiction podcast Black Friday
Stormfire Productions (Kalila Stormfire's Economical Magick Services) has announced its new upcoming fiction podcast, Black Friday:
BLACK FRIDAY is an eight episode series about a mysterious phenomenon that turns white people into black people. Black Friday examines how perception shapes the world, and how we shape perception.
Black Friday will premier November 29th, 2019. Its trailer can be heard on the podcast's website.
---
Campaigns
Oblivity crowdfunding its second season
Comedy sci-fi fiction podcast Oblivity will be crowdfunding its second season via Kickstarter. The campaign has an all-or-nothing goal of £5000 and will be running until October 17th, 2019. "Oblivity follows the story of a disgraced war hero, posted to Pluto to oversee a dysfunctional research crew. The first six-episode season was released in April – and has enjoyed thousands of listeners, critical acclaim, a sell-out live show, and fan-art."
Primordial Deep crowdfunding its first season
Upcoming fiction podcast by No Such Thing (Janus Descending) Primordial Deep is crowdfunding its first season via IndieGogo. The campaign has aflexible goal of $5,500 USD and will be running until November 10th, 2019:
No Such Thing is an independent production company, dedicated to creating and sharing new works of audio drama fiction, and the development of strange new worlds through the power of storytelling. We create stories, set in the wildest corners of the universe, to explore just what it means to be human. Primordial Deep is an ongoing adventure/thriller, set in the expanded universe of No Such Thing's first series, Janus Descending. Written by Jordan Cobb, with sound design by Julia Schifini and music by Daryl Banner, the first season of Primordial Deep will be comprised of seven (7) episodes, each approximately 45 minutes in length.

The story begins when a long extinct sea creature washes up on the shores of Coney Island. Marine biologist Dr. Marella Morgan is contacted by a secret organization to investigate the origins of the creature's sudden and unnatural resurgence. Soon, she and a team of experts find themselves living on the research station The Tiamat, traveling along the abyssal plains as they search for answers far below the waves. But there are dangers in these ancient waters. Reawakened, prehistoric monsters are rising from the deep — jaws wide and waiting, and in the darkness, something is stirring."